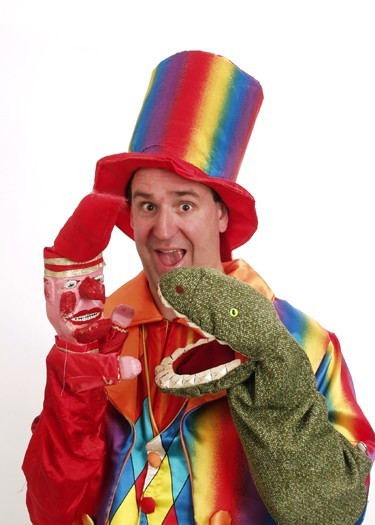 If you need advice or have any booking questions please contact us or use the enquiry form below.
If we can't supply your requirements,
try one of our partner sites


Punch and Judy
Punch and Judy, performed by seasoned professional Uncle Brian, is a popular puppet show featuring Punch and his wife Judy. The performance consists of a sequence of short scenes, each depicting an interaction between two characters, most typically the anarchic Punch and one other character. The show is traditionally performed by a single puppeteer, known as a Professor.
Staring Mr. Punch, Judy, the Baby,
Staring Mr. Punch, Judy, the Baby, the Policeman, Joey the Clown, the Ghost and the Crocodile etc. Each show lasts for 30 minutes and includes a traditional striped booth & PA system. By and large for a full day affair artist alternate 30 minutes on, 30 minutes off for spells longer than an hour. For details of costs and times please contact me directly using the details to the left of this page. I am always happy to give advice on punch and judy shows and welcome enquires from all over the United Kingdom.
Hire Punch and Judy
Hire Punch and Judy, the conventional, widely known British hand puppet 'carry on' starring the husband and wife team of Punch and Judy. My Punch and Judy show is based on a program of brief acts, each portraying two-way exchange among a couple of personalities, characteristically the chaotic Mr Punch and another wooden-headed persona, one on each of my hands as the solo puppeteer customarily referred to as a Professor, a Victorian honorific younger than the Punch & Judy show itself which dates back to the 16th century and a higher sounding qualification than the Bachelor of Science I gained reading Chemistry at the University of Manchester.
Punch and Judy Show History
The Punch and Judy show can track its origin back to the sixteenth century commedia dell'arte of Italy. The Punch character hereditary springs from Pulcinella the Neapolitan personage, which became Punchinello for the British to get their tongue around. Mr Punch's character is based upon the Abbot of Unreason and mythological Clowns. Punch's wife used to be called Joan. Around 1818 when Punch swapped from being a string puppet (or marionette) to glove puppet not only did his wife's name changed to Judy her personality also altered from an irascible woman in the eighteenth century who on being asked for a kiss by Mr Punch hit him to the dupe subject to Mr Punch's unprovoked attacks.
In Great Britain Punch's birthday is said to be May 9th, 1662 by "Professors" based upon that being the first sighting recorded in Samuel Pepys' diary of a puppet that developed into Mr. Punch. Pepys saw a marionette puppet show inside a tent by Pietro Gimonden, an Italian puppeteer using the stage name "Signor Bologna".
Uncle Brian's Punch & Judy Show
I have Punch wearing a jack-a-dandy costume with a hunchback and a red hooked nose which nearly touches the protruding arch of his chin in my Punch and Judy show. I arm Punch with a slap stick almost as big as he is, that he wheels blows with care free abandon on every cast member of my Punch and Judy show. My Mr Punch talks in his quintessential stridor tones, brought about by a gimmick referred to by fellow Punch and Judy Professors as a swazzle or swatchel being held on the roof of my mouth, conveying Punch's gleesome palaver - "That's the way to do it". This unmistakable dialect of Mr. Punch would be so conspicuous by its absence that there is some contention within Punch and Judy Professor camps as to whether or not a show without this swazzle gadget could be seen as a bona fide Punch and Judy Show.
My introduction to the Punch and Judy glove-puppet shows was on the sandy beaches of Scarborough seafront. My father and I performed from within an easily-transportable, narrow, lightweight red and white stripped booth (known professionally as a "fit-up") with one as puppeteer whilst the other acted as an assistant "bottler" to collect our earnings from a crowd. By swapping roles we were giving many performances in a single day.
I don't use antique personnel of the Punch and Judy troupe, like the historical hangman Jack Ketch, the devil and Punch's mistress Pretty Polly with them being unsuitable for a crowd of children.
Nowadays my presentations of the Punch and Judy puppet pantomime are not solely as a classical children's amusement in North Yorkshire seaside towns, caravan parks and holiday camps over the summer holidays. These days my Punch and Judy shows are crowd pleasers at school fetes, weddings, fun fairs, shop openings, birthday parties and every other shindig.
In addition to Punch & Judy, my traditional cast members comprise of the baby, a snappy crocodile, Joey the Clown, Mr Policeman (taking the place of the antiquated Beadle), a hairy spider and a range of props including the baby's milk bottle, string of sausages, frying pan, police whistle and Punch's slap stick. There may have been alterations in the plot, but a handful of enduring catch phrases are still those used for decades or before I was born: for instance, Mr Punch, whilst chasing Judy, always squawks "Give us a kiss" or after whacking everyone which his slap stick Punch comes out with the audiences favourite "That's the way to do it"
My whole Punch and Judy show is acted out as flamboyant preposterous farce and is aimed to court appalled guffaw. The Victorian's Punch & Judy may well have been played to the ethicality of the era, where as my Punch and Judy action is more along the lines of a slapstick cartoon like Tom and Jerry. My Punch and Judy story line is analogous to a basic edition of The Simpsons opening titles.
Recommendations
Dear David, On behalf of our committee I would like to thank you for doing such a great job yesterday.

Punch and Judy is something most children hadn't seen before and they seemed to enjoy it.

Kind regards, Faye
Thank you for coming along and supporting us on Sunday - what a lovely day we all had - all our Team were so impressed with you.

The feedback we have had on the event has been terrific with children and grown ups raving about you. We will certainly be in touch if we have another event next year. Just seeing the smiles on faces and seeing children and grown ups participating as they watched your Punch & Judy was a joy.

Thank you so much for helping make our event such a success. If ever you need a reference just give my name.
With best wishes from all our Moatwatch Team.
It was very good. They all enjoyed it and it made a great start to our topic.
Thanks. Glynis
We just wanted to say a big thank you for performing your Punch and Judy show at our Family Day event last Saturday. We really appreciated you coming all the way to Oxford and especially at such short notice. The Punch and Judy show was a huge hit, you could hear the children laughing from the other side of College! It is such a shame that we didn't come across you earlier in our preparations as we would have hired you for the whole day to perform some of your other specialities. We will pass on your details to the other Colleges for events such as this, and we will definitely keep hold of your details for when we (hopefully) do this event again in 2 years' time. Thank you once again for helping make the event such a success.
Lucy Thompson, Alumni Relations & Events Officer, St Catherine's College, Oxford
I am writing to say a huge thank you for your support at this year's Welcome To Yorkshire stand at the Great Yorkshire Show.The show attracted a near record attendance during the three days.Our stand was jugely popular and one of our best to date - and your support was key to this success.The Punch & Judy show was extremely popular and proved a real attraction for visitors and helped promote Yorkshire.Thank you for your support and we look forward to working with you again.
Gary Verity,Chief Executive, Welcome to Yorkshire
Just to say thank you again for yesterdays fantastic show the children really enjoyed it, they cant stop talking about it!! We are hoping to give some mini performances with the puppets we have made next week. keep up the good work!!
Sharon Rowan, The Bullion Lane Primary School, Chester Le Street County Durham
Technical Requirements for Punch and Judy Shows
Space required for the indoor Punch & Judy puppet theatre is 3ft x 3ft. The Punch and Judy booth is 7ft high. If the puppet show is to be performed outside I would recommend allowing for a larger footprint of 3m x 3m for Punch and Judy show to be performed from under a temporary gazebo like mini marquee which is a great way to extend your outdoor entertaining during the unpredictable and often inclement British weather. Although the gazebo wouldn't offer cover for the audience.
If you would like to pre-empt the crowed watching Punch and Judy getting damp or sunstroke I do have available an inflatable marquee with 6m x 6m undercover. When planning site layouts allow 25ft x 25ft for the inflatable marquee taking into account guy ropes and blower.
For large outdoor audiences I have a Punch and Judy booth on a roadshow trailer stage. Having the Punch and Judy booth on a raised stage enables people to see over other's heads increases the depth of an audience. It is preferable to park the towing vehicle alongside the roadshow stage trailer. The van and trailer are 36ft long.
Punch and Judy comes with radio mic and receiver enabling patch-up link into an existing venue PA system and electrical supply.
If known in advance venue amplification and generator can be provided.
For any variation on the above do get in contact or for parade work also.
A risk assessment for the act is available on request.
Public Liability Insurance Limit £10,000,000